Welcome to the Acoustic Noire website.  We look forward to sharing our love of the many moods and emotions of acoustic guitar music with you, as you accompany us on a journey inspired by the complex and ever-changing flavours of life...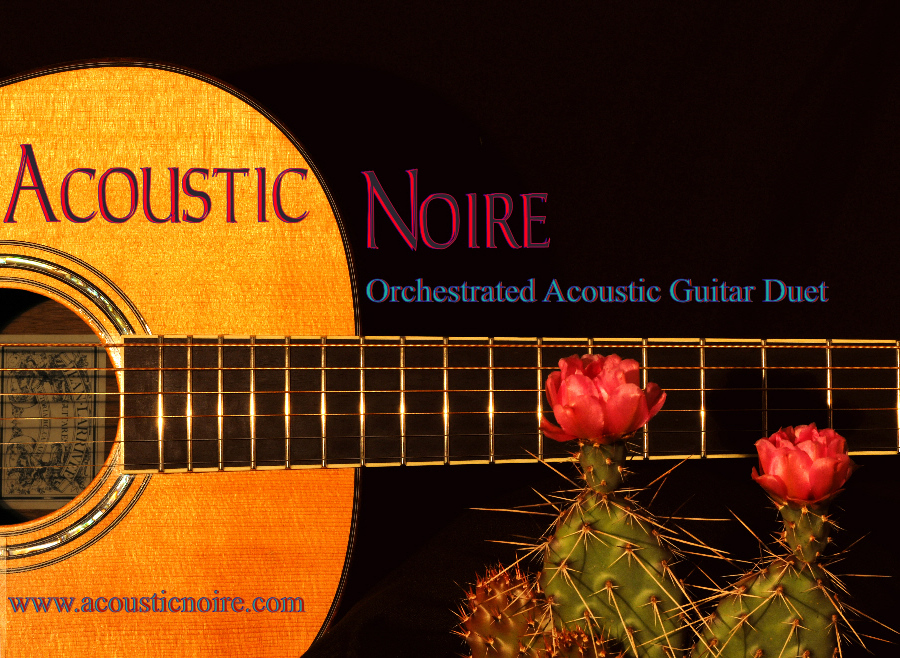 Acoustic Noire.

  Acoustic.  Dark.  Irresistible.  Cool.  Moody.  Different.  Fun.
Acoustic Noire is an original "Orchestrated Acoustic Guitar Duet

", meaning, we are two musicians who play original acoustic guitar based compositions that we developed with the goal of creating a form of orchestration in our original music, and a wide variety of stylistic approaches, in so doing.
Acoustic Noire is the collaborative effort of Phil Patenaude and Rob Dewar, two long-experienced musicians who hail from the rural areas near Summerland, British Columbia.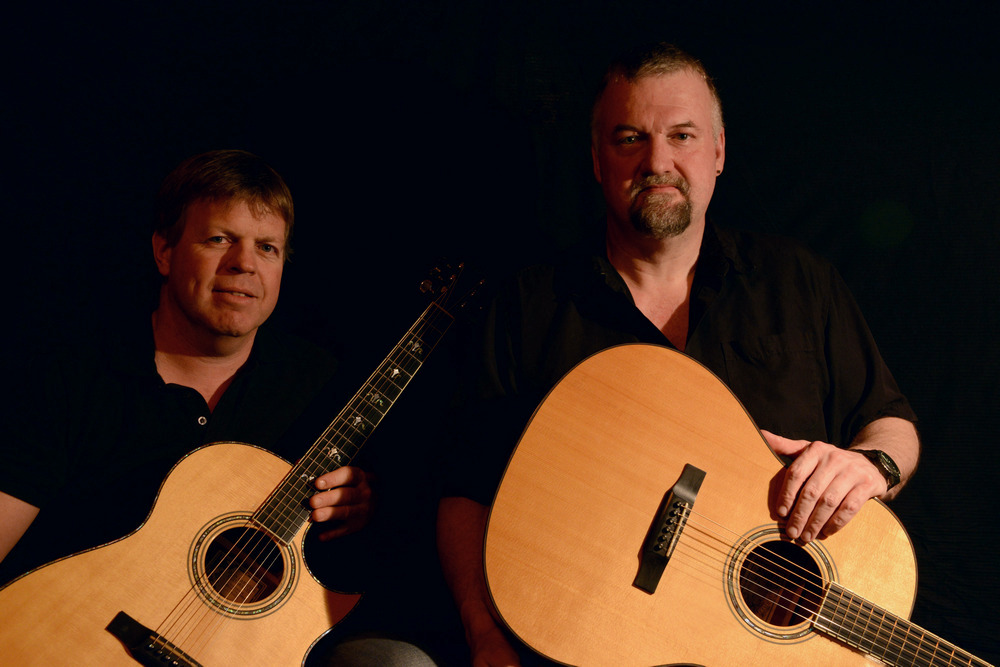 Think of our music as fun, modern, evocative

orchestra for two guitars. 
The original sound of Acoustic Noire has been described as orchestrated "movie theme music" performed on the acoustic guitar.  We use the twelve musical voices and numerous percussive resonances of our two acoustic guitars to create subtle, powerful and emotionally-charged

musical stories for our listeners.
Acoustic Noire will take you on a journey of musical and mental imagery, and guide you through an intensely enjoyable and diverse series of melodic and rhythmic emotions, set to the wonderfully variable and sensitive character of the acoustic guitar, and performed for you by two lifelong performers who share a total of over seven decades of playing experience on this exceptional instrument, to let you hear and feel our musical interpretations of every emotion in the spectrum, ranging through joy, sadness, hope, despair, strength, uncertainty, solemn reflection, upbeat optimism, fiery determination, rage, calamity, tranquility, peace, and above all, love

.
Acoustic Noire's original repertoire has something for everyone, and appeals to all ages and most musical tastes, offering fluidly performed and highly diverse musical statements which exhibit subtle nuances, singing melodies, driving rhythms, uncommon contrasts, reflective interludes, explosive

apexes, sizzling improvised solos, and an expertly-delivered, deeply moving style that happily commands the attention of every kind of guitar or musical aficionado.
Acoustic Noire's wide range of musical influences and inspirations encompasses almost every style, from bright jazz, pop and rock variations, to sweeping classical, military and thematic statements, to organic country and bluegrass elements.
Acoustic Noire is acoustic guitar, of an unusual composition

.
 Want to see
Acoustic Noire

in action, live?  Click here.
Unfortunately, Acoustic Noire is no longer performing, due to family pressures in Phil's life.  You can still
This email address is being protected from spambots. You need JavaScript enabled to view it.

to send us an email directly, or use our contact form from our Contact page.
Thanks for stopping by!